SLEEP APNEA TESTS & DEVICES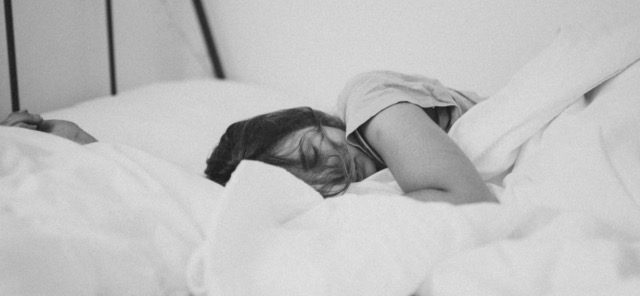 Did you know you can take sleep apnea tests in the comfort of your own bed to see if therapy is right for you? No appointment or lab visit is necessary. After just one night of sleep in your own bed, our simple-to-use home sleep apnea tests can tell us if therapy is right for you. Avoid the sleep lab, save time and money.
You will have a brief telemedicine video chat to approve your home sleep test. This call is about 10 minutes and is required for our providers to review your medical history and approve the prescription for your home sleep test.

Take home one of our simple-to-use sleep study devices shown below, and get tested in your own bed. Our user-friendly testing devices are FDA approved and will monitor your breathing patterns during one night of sleep.

You will receive a personalized sleep report once the doctor evaluates your sleep data.
If you are diagnosed with sleep apnea, we'll immediately send you a prescription for CPAP therapy. This prescription covers your CPAP machine and face mask.
for
Sleep Apnea | COPD | Pulmonary Function | Asthma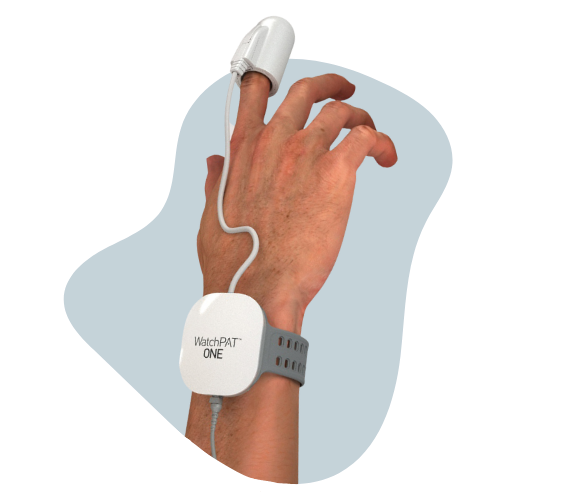 This video features the WatchPAT ONE Home Sleep Apnea Test step-by-step instructions.
Safe, Disposable Sleep Apnea Tests Right at Home
Simple, Accurate, and Reliable.

FDA-Approved.

Ships within 2 business days

Able to determine the type of sleep apnea (obstructive, central, or complex (mixed)) and its degree. Estimates total sleep time and percentage of REM, light NREM, and deep NREM sleep.

Accurately measures for sleep apnea based on up to 7 different factors: PAT signal (peripheral arterial tone), heart rate, oximetry (blood oxygen level), actigraphy (gross motor activity), body position, snoring, and chest motion.

No tubes on your face or belts on your chest

DOT-approved

You must be at least 18 years old to take this test.
The WatchPAT is not approved for sleep apnea detection if you have one of the following conditions:
Peripheral vascular disease or Raynaud's syndrome affecting your hands

You have a permanent pacemaker and your heart rhythm is paced 100% of the time

You are in a sustained cardiac arrhythmia
If you are taking one of the following classes of medications, do not take this medication within 3 hours of starting your WatchPAT test:
Alpha-blockers, e.g. doxazosin, terazosin, prazosin

Short-acting nitrates
Contact us to order your WatchPAT ONE Home Sleep Study Kit.
Help Diagnose Sleep-Disordered Breathing
The ApneaLink Air tool is designed for utilization by Health Care Professionals (HCP) to potentially assist in identifying sleep-related breathing issues in adult individuals. It captures details such as nasal airflow, snoring intensity, oxygen levels in the blood, heart rate, and the effort of breathing while the patient sleeps. Based on these recordings, the device generates a summary for the HCP, which can be instrumental in diagnosing sleep-related breathing anomalies or prompting more detailed clinical studies. This device is a creation of ResMed Air Solutions.
Schedule an office appointment to Pickup a ResMed ApneaLink Home Sleep Study Kit.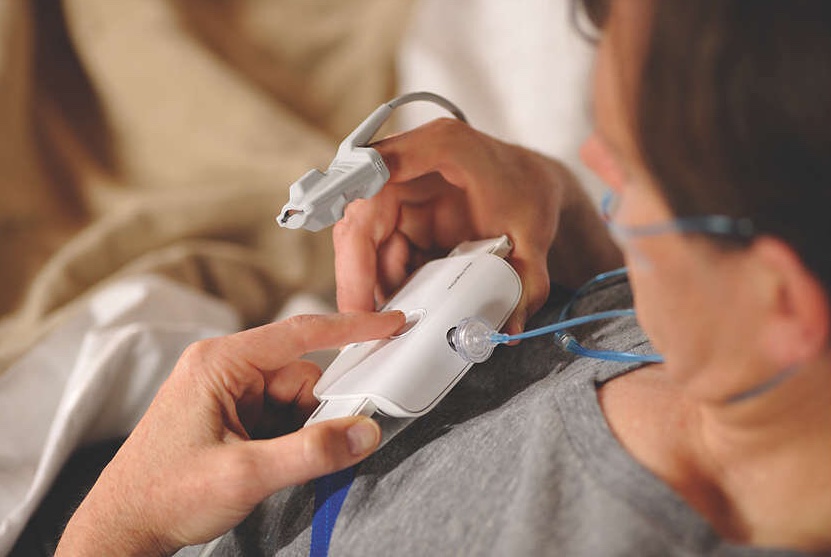 Easy-to-Use Smart Guide Setup
The Alice NightOne (HST) home sleep test is crafted to ensure patients complete their study successfully on the initial attempt. This equipment boasts features such as instant activation upon belt fastening, an intuitive guide for sensor positioning, an improved study quality indicator, and Bluetooth compatibility with therapeutic devices. The Smart Guide Setup of Alice NightOne showcases light-up sensor prompts, guiding users step-by-step during sensor placement. These prompts transition from yellow to green once a high-quality signal is recognized. Notably, the device employs sensors that the AASM endorses for studies taken in a laboratory.
Schedule an office appointment to pick up an Alice NightOne Home Sleep.